Spread betting stripped bare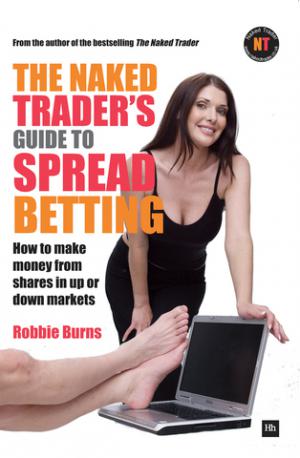 Spread betting stripped bare

What's the point of paying for a beginners' book about spread-betting? After all, pretty much every spread-betting firm in town is delighted to give you a nifty little ring-binder containing all the details when you open an account, and usually a series of live or recorded seminars thrown in too. And then there are the countless articles floating around for free on the internet.
Despite all the free education that's on offer for would-be spread-bettors, I still think there's a good case for starting out with a really decent book. There's something much more human about a guide written by someone who's been through it all already rather than some glossy manual that's been ruthlessly edited by the spread-betting firm's eagle-eyed compliance officers.

The Naked Trader's Guide to Spread Betting is an ideal first read for the would-be spread bettor. Robbie Burns - aka the Naked Trader - has a rare combination of talents, in that he both makes money from the markets and knows how to write about the subject too. Spread betting is an exciting activity and his new book actually conveys that, unlike some other introductory texts I've read.

The book covers an impressive amount of ground, from the raw workings of spread betting right through to the psychology of making a trade. Throughout, it gives examples of real-life trades, both Robbie's own positions and those of the students he mentors in his trading courses. Apart from the blokish, matey writing-style, there are some reasonably amusing cartoons to lighten the tone.

As well as highlighting the dangers involved in spread betting, Robbie does a good job of tackling some of the less rational fears about it. He takes on the oft-repeated whinge that spread-betting firms deliberately cause their clients to get stopped out of trades. In fact, they don't need to, as punters make so many silly, unnecessary mistakes without any need for outside interference.

Occasionally, Robbie has his lapses. He admits he is not an expert when it comes to technical analysis (charting) and then goes on to prove it by saying that the head-and-shoulders pattern is a bearish reversal pattern, not mentioning that it can also be a bullish reversal pattern, as well as a bullish or bearish continuation pattern. He also casually asserts that oil-company shares will tend to move in line with the oil price, whereas the relationship is not actually particularly close.

Overall, though, this is a fine addition to spread-betting literature from a profitable trader who really knows his stuff.
View article on source website