The Naked Trader?s Guide to Spread Betting - how to make money from shares in up or down markets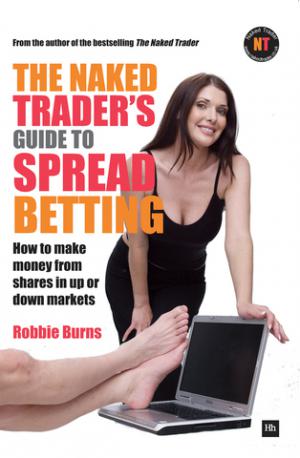 This book is a companion to Robbie Burns? best-selling The Naked Trader. Burns is a former journalist who has been publishing his trades for the last ten years on www.nakedtrader.co.uk , showing a cumulative profit of some £800,000 to date.

The first part of the book, ?Learning it?, deals with the mechanics of spread betting. The message underlying the book is that most people lose money spread betting, and that the inherent leverage means that this can be is disastrous ? so he emphasises stop losses, having sensible exposures and only betting what you can afford to lose, and the need for a trading plan. Burns is no believer in trading systems or of reliance on technical analysis alone - his approach is one of general rules-of-thumb based on his experience, such as ?keep stops tighter than target prices?, with a similar distrust of trading indices and foreign exchange, which experience shows loses money.

An interesting chapter records his visit to two spread betting firms, confirming that most people lose, and that losers trade more, are less-disciplined and do less research than winners (day-traders tend to implode). Winners also tend to be trend followers. There is a short chapter on investor psychology, with the message that fear leads to snatching small profits and running losses (the opposite of what successful investment requires), and greed or over-confidence leads to overtrading. The final chapter in the section lists mistakes that many new spread betters make, including setting too tight stops, overtrading, buying against the trend (?the path to selling The Big Issue?) or trying to spot turning points.

The second part of the book, ?Doing it?, describes the many strategies Burns uses to identify trades, as a basis for readers to develop strategies that suit them. These include news-driven events, buying on panics, shorting companies with excessive debt, trend-following, and ideas prompted by ADVFN Toplists (?technical analysis done for you?). He also gives examples of recent trades and his thinking behind them. A chapter of ?Traders? Tales? - mostly cautionary - is included from emails to his website, and there is a final summary of his 20 key rules for spread betting.

Anyone looking for a detailed cookbook will not find it here ? his approach is more intelligent and more pragmatic. Beginners will find this an interesting and useful book, written in a nice style by an experienced and successful investor.