Weekend Book Review - The Search for Income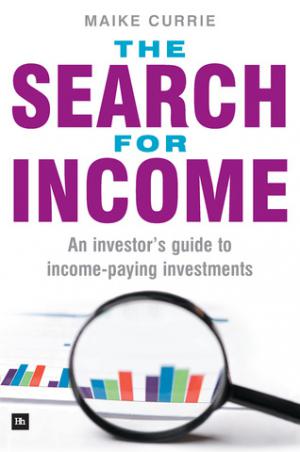 In my experience I have found that many private investors spend an extraordinary amount of time searching for shares which have the potential not to just deliver modest year-on-year gains but those which could double, treble and rise by even more in value. And that's not surprising considering the stratospheric gains which some stocks have delivered over the past few years. Did you know that £1,000 invested in Randgold Resources in January 2001 would be now worth £44,864. The same amount invested in Asos shares in summer 2003 would now be worth £572,083!

With returns such as these being possible from capital gains it is not surprising that those who invest for income are often described as being "conservative" or even "boring". But shares such as Asos and Randgold are very rare. Therefore, I believe that every investor should have investments in their portfolio which not only have the potential for capital gains but which are also able to provide a steady and decent level of income.

In The Search for Income, Maike Currie helps investors to search out exactly those kind of investments. The author is an expert in the subject matter, writing about income for a living for a number of publications in the Financial Times Group.

The book is divided into three parts, with the first concentrating on what income actually is and why it matters. Interest rates and inflation are also covered in some detail.

The main section of the book concentrates on the various types of income generating assets, explaining how they all work and how they can be bought. Cash, bonds, equities, funds, property and alternative investments are all covered.

While not being the main focus of the book there is a decent section on equities. Particularly interesting is the explanation of how the re-investment of dividends every year (as opposed to spending them) can lead to significantly higher gains in the long-term. Did you know for example that £100 invested in equities in 1945 would have been worth £7,932 in 2011 if dividends were spent, but a whopping £136,107 if dividends had been re-invested in the shares.

In the final section Currie goes into a bit more technical detail by explaining how to construct an income investment portfolio. The investments already explained in the book are covered along with various investment vehicles such as ISAs, pensions and other tax efficient structures which help investors to retain as much of their cash as possible. One useful section advises how investors of different ages should construct their portfolios, from the young, to those with families, and those in retirement.

Throughout the book Currie demonstrates her expertise in the subject matter as well as her accessible writing style, with each chapter being detailed and informative but easy to read and jargon free. I would recommend it to any investor, young or old, to have as a reference guide to a subject which is becoming ever more important in a world of increasingly volatile share prices.
View article on source website