The Peter Gyllenhammar story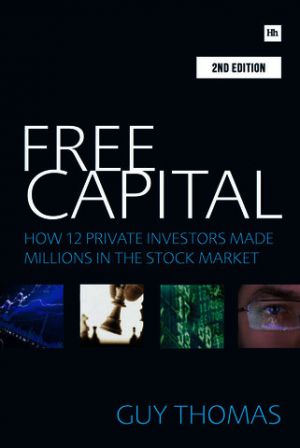 The story so far: Leeds Group shares are dirt cheap judging by conventional measures, but, although it has one main business importing fabrics to Germany, it?s an investment company run by two Swedish non-executive directors. I don?t like this arrangement because:

The company says it?s looking to make new investments, and I like to pick my own.
The two investments it has made under Johan Claesson and Peter Gyllenhammar outside of Hemmers-Itex, the fabric business, look particularly risky (a failed investment in residential mortgage backed securities during the credit crunch, and a stake in Dawson International, a struggling cashmere supplier with a large pension fund).

On the other hand, Leeds already owes money so its ability to make new investments seems constrained and by investing in a new warehouse for Hemmers-Itex and buying back large amounts of shares it?s constrained itself further. The words and deeds don?t match, and if actions speak louder than words, I like Leeds more.

Free Capital a soon-to-be published book profiling twelve UK investors who?ve accumulated £1m or more contains a chapter on Gyllenhammar. It doesn?t make particularly comfortable reading.

We already know his investment style because he owns stakes in a number of companies in the Thrifty 30 portfolio. In his own words, it?s to:

Pick up bombed-out shares trading at a large discount to net asset value. If they are badly managed or not managed in the best interests of all shareholders, then implement change. This typically takes you into operationally risky situations and some of the investments go bad, but the risk/reward in aggregate is attractive.

He parlayed £50K and a £2m credit line into tens of millions investing in UK small caps between 1996 and the early 2000?s, but his appetite for leverage has led him to go bust, twice.

In 1976 his investment company Trend Invest acquired nearly 50% of Fagersta, a steel company, with the intention of merging it with other steel interests. But Trend Invest was funded in part by money Gyllenhammar had borrowed and when Fagersta launched a deeply discounted rights issue Trend didn?t have the capital to take up its rights or withstand the subsequent drop in share price.

When his broker asked him what he was going to do about the £200,000 he?d lost, Gyllenhammar replied:

Clearly someone has lost £200,000. It can?t be me, because I never had £200,000. You?ve lost £200,000!

Instead he went to work for the broker, and subsequently became a partner.

In 1990 another Gyllenhammar investment vehicle, Mercurius, went bust when its twelve month rolling bank facility was called in as the Swedish banking crisis unravelled.
I had made some misjudgements about leverage,

Says Gyllenhammar

?but I was still confident about my ability as an analyst.

He went to work as a corporate financier for one of his previous backers, Ulf Lindén, the man who ultimately financed Gyllenhammar?s successful foray into British small-caps during the boom years of the late 1990?s.

The book also describes some of Gyllenhammar?s corporate engineering successes, Britannia and YJ Lovell in 1996, but success since 2003 has been harder to come by. The corporate engineering at Leeds has come and gone with the sale of Leeds Leasing and the investment of the money released by it, yet still the company trades at less than the value of its net working capital.

Like an investment trust with a poor track record, I think lack of faith in the investors who run Leeds is part of the reason for its low market valuation. Gyllenhammar takes big risks, although in the book he recognises the role of debt in past failures and says he?s less tolerant of highly indebted companies these days.

On the other hand, at the heart of Leeds is Hemmers-Itex, which looks like a perfectly viable business that has survived recession. Buy Leeds and you get Hemmers-Itex for less than the value of its net working capital.

I may well add Leeds to the portfolio, but I?m not in a hurry to because companies are reporting, and with limited cash available to the Thrifty 30 I want to see what other opportunities there are.
-

Free Capital should be an interesting book. Gyllenhammar is, perhaps, the best known investor of the twelve investors profiled, and the capital he has at his disposal allows him to build bigger stakes in companies, and therefore have more influence.

Like The Warren Buffett?s Next Door, Free Capital offers us the opportunity to learn from interviews with successful investors. It?s published later this month, and will be available at a discount in the Interactive Investor mothership?s bookshop.
View article on source website