The Street-Smart Trader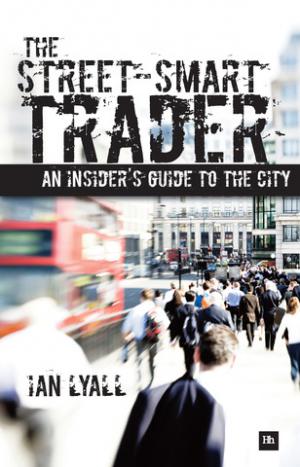 Having studied finance and investment for the past 14 years and worked in the business for the past four I have learned that there is a clear difference between how the textbooks tell you how finance is supposed to work and how it does work. As you move from academia into the industry you learn that the City is not run by computer programmes, theories and complex algorithms but that it is actually run by human beings - something that the books never seem to discuss. On that note, in the Street Smart Trader experienced financial journalist Ian Lyall arms the private investor with knowledge of how the murky world of finance really operates and, crucially, how it can be used to make more profitable trades.

The Street Smart Trader is very different from other private investor focussed investment books. There are no details on how to analyse company accounts, macroeconomic conditions or industry trends here. Instead, in nine thoroughly researched chapters, Lyall attempts to put the private investor on a more level playing field with the professionals by getting into their minds and discussing what motivates them in their working lives.

As the introduction to the book says this book is an insider's guide to the City of London in the 21st Century. It starts off with a brief history of the London Stock Exchange, from the coffee houses of the 17th Century to the Big Bang of the 1980s to the current day. We then get the more juicy parts, such as how companies employ armies of public relations experts to put a spin on their news and how to read beyond the spin. Why investment analysts don't always give their honest opinions on a particular stock is particularly interesting. The section on why director share purchases should not always be seen as a buy signal (and sales as a sell signal) is also very useful.

I thoroughly enjoyed this book and read it within a couple of hours. In fact I would have loved to have written it myself, many of the stories being a perfect example of my day to day working life. It is an ideal purchase for the private investor looking for more unconventional research tools to use when analysing stocks as well as a valuable read for anyone who is looking to get a job in the City.
View article on source website