Weekend Book Review - The Naked Trader\'s Guide to Spread Betting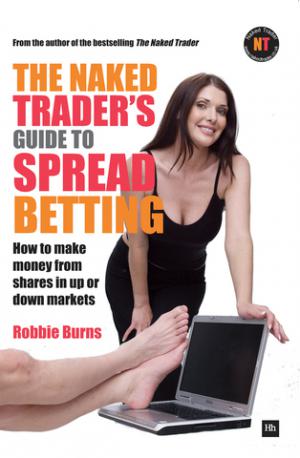 The Naked Trader's Guide to Sread Betting
By Robbie Burns

A book review by Muhammad Altamash of the AIM & PLUS Newsletter

Spread betting holds many tempting advantages to the traditional way of investing in equities. Besides being exempt from capital gains tax, investors can potentially amplify their gains through the use of leverage and short shares with ease without having to go through their broker.

Following on from the best-selling introduction to trading shares, The Naked Trader, the toast loving, day trading supremo, Robbie Burns is back with an entertaining, witty and very informative look at the spread betting world. But unlike the usual boring technical analysis based books on the subject and the numerous guides to 'successfully playing' the markets, Robbie Burns' 200-page guide is truly unique.

It's rare that you come away reading an investment book with the reassuring feeling that comes with receiving great advice. It's as though you've just had conversation with an older, wiser friend who's put your mind at ease. I say that because you can genuinely feel that the author has taken the trouble to address the misperceptions of easy money and the benefits of leverage that lure so many into staking more than they can afford.

Furthermore, you can sense the effort put into making the book accessible to read and making the reader ponder whether spread betting is really for them. Whether it's his painstaking demonstration of calculating exposure levels, setting out the technique behind setting stop losses or listing the top mistakes made by punters, it's clear that the author wants you to understand the dangers of signing up for an account. Burns goes further and even publishes agony aunt style responses to frustrated traders which really opens one's eyes to how its harder to make money that the ads about betting on Forex or the FTSE 100 make out. Like his previous book, Robbie reveals his own strategies ? which is especially useful when he explores complex issues like avoiding being stopped out, looking for shorts and handling volatility.

What's more is that the author addresses the usual complaints about spreadbetting firms that frustrate so many investors. From their alleged prompting of stop losses and their true stake in their customer's positions, it's all in here. His opinion is gleaned by actual visits to two major providers, and by speaking to senior figures at the firm. And it's this insight obtained from such first hand meeting that really sets the book apart. Take this useful nugget. When asked how the trading patters of winners differed from the losers, one trader sets out three important points:

- The people that win don't trade as much as those that lose

- Winners often go flat for a few days

- Winners are often those who ask for quotes on firms the spread betting providers have never heard of

All in all this is a very, very insightful book for readers of all knowledge levels. Not only does it reveal the common pitfalls and naive strategies most first timers fall prey to, but it also advises those nursing the pain of losses on how to keep their emotions under control. This is the introduction to the topic and the book is so easy and fun to read that it can definitely be completed on a weekend before the stock market opens again. What's more is that Burns doesn't just leave you wiser but he also gives you access to a host of discounts at the back of the book and even a way to see him in action at one of his frequent educational seminars. A worthy successor to his bestseller that I would highly recommend.
View article on source website